Are you looking for healthy gluten free pasta alternatives? So many people say, "I could never live without my pasta!!!" … maybe it's because you don't know about all the many amazing alternatives. Here are 10 of our favourite healthy gluten and wheat free pasta alternatives for you to try.
1. Spaghetti squash
Spaghetti squash gets its name from the (cooked) inner flesh of a spaghetti squash which looks very similar to strands of noodles when scraped through with a fork. If you want to learn more about this unusual vegetable I recommend reading theses blogs, 'How to Perfectly Bake Spaghetti Squash' and 'When to Harvest Spaghetti Squash and 'When to Pick Spaghetti Squash'.
2. Quinoa
Though it's not shaped like pasta, this ancient grain can be a great pasta alternative and is a fantastic source of protein. You can add it to salads, soups, stews, curries or simply have as a side. We recommend soaking the quinoa overnight in filtered water with a good pinch of Changing Habits Seaweed Salt, then rinsing the quinoa in fresh water in the morning and cooking as per usual. This will help to de-activate the anti-nutrients that are present, which will result in your body absorbing and utilising the minerals more effectively.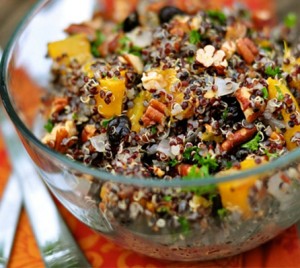 3. Rice noodles
Rice noodles are a quick, easy and a wonderful addition to dishes like laksa, curries, pad thai, stir frys and other oriental inspired dishes. They're available at any health food store, supermarket or Asian grocery store.
4. Shirataki noodles
Shirataki is made from a root vegetable found in Asia and is often called 'miracle noodles' because they contain no carbohydrates and are rich in fibre. You can find these in health food stores and in some supermarkets too.
5. Kelp noodles
Kelp noodles are made from seaweed and are rich in iodine and fibre. You can eat kelp noodles when they're crunchy by rinsing them in filtered water before adding them to salads and other dishes. If you prefer to eat them softer, you can soak them in a bowl of hot water with a teaspoon of apple cider vinegar and a pinch of Changing Habits Seaweed Salt for 30 minutes. Simply rinse the noodles and add them your meal eg a stir fry, or bolognaise sauce and cook the noodles until they soften. You can find these in your local health food store or online from companies such as iHerb.
6. Shredded cabbage
Cabbage is such a versatile, forgotten vegetable. Shredded cabbage can be a great pasta alternative as it makes a great 'bed/ base' for beautiful sauce such as bolognaise sauce.
7. Zucchini noodles (zoodles)
Many vegetables like zucchini are great to use as a base for your pasta sauces. You can use them in a number of different ways – shredded, julienned, cut into ribbons using a peeler or a spiralizer. By using zucchinis for pasta you will increase the vegetable content of your dishes.
8. Root veggie noodles
Just like zucchini noodles (zoodles) you can also 'spiralise' cucumbers, carrots, beetroots, sweet potatos, parsnips and other similar root vegetables. If you don't have a spiraliser you could simply use a peeler and create vegetable ribbons.
9. 'Cauliflower' rice
Another fantastic alternative to pasta, cous cous and semolina is cauliflower 'faux rice'. It's so simple to make and you don't need any fancy kitchen tools either. You can simply grate the cauliflower into what resembles rice or chop it up finely. Simply fry it in a little coconut oil or butter with herbs, spices, garlic and onions for a couple of minutes.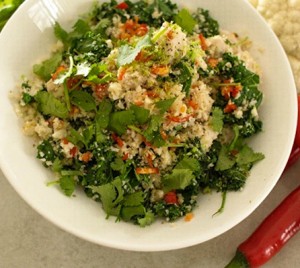 10. Organic white and brown rice
Rice is incredibly versatile, as it can be used in both sweet and savoury dishes by making sushi and by adding it to salads, soups, stews and curries. We recommend soaking organic white rice overnight in filtered water with a good pinch of Changing Habits Seaweed Salt, before rinsing it in fresh water the next morning. If you have insulin issues or find it easy to overindulge in white rice then you might want to consider adding a little coconut oil to your rice when cooking it. When you cook the rice with coconut oil and allow it to cool overnight in the fridge, it produces a smaller spike in your blood sugar when you eat it because the rice is rich in resistant starch. This improves insulin sensitivity in your body, enhances sleep, energy levels and mental clarity as well as being a great food source for the beneficial bacteria in your gut. You can click on the following links to read more about it –  here, here and here.
Jordan Pie
Nutritionist & GAPS Practitioner