Gluten free may sound limiting (even boring to some). But when you wow your guests with a sumptuous platter full of real foods like those here, you might just make them rethink. In fact, as these finger foods are full of nourishing ingredients that will leave your guests feeling energised and happy, I bet they won't even notice that they are gluten free!
Pate
Liver pate is seriously delicious – you'd be surprised how many people will comment on how good a homemade batch is. I made pate for my wedding platter, and I received many compliments from the most unexpected people! Liver is one of the most nourishing foods on the planet, rich in B vitamins, iron and zinc. It is also very satisfying due to its fats and nutrients – meaning happy guests, guaranteed! Try our recipes here and here.
Seed crackers
These are grain free, so will keep blood sugar levels balanced and avoid the energy slumps you usually get with bread or gluten based crackers. Plus, you can make them any flavour you like! I love a lot of spice in my homemade crackers. You can find great recipe ideas here and here.
Pesto
Delicious, unbelievably cleansing and nourishing. Pesto is one of my favourite go-to dips, because it is so easy to prepare and everyone loves it. For recipe ideas see here and here.
Chicken bites
It wouldn't be a proper spread of finger food without something battered, right? And, yes – you can enjoy gluten free crumbed foods! Try serving these or these with a homemade mayonnaise or tomato sauce.
Olives
Look for olives in brine or olive oil, not canola or vegetable oil. This is important because it can mean the difference between a nourishing food and a toxic inflammatory food – read more here.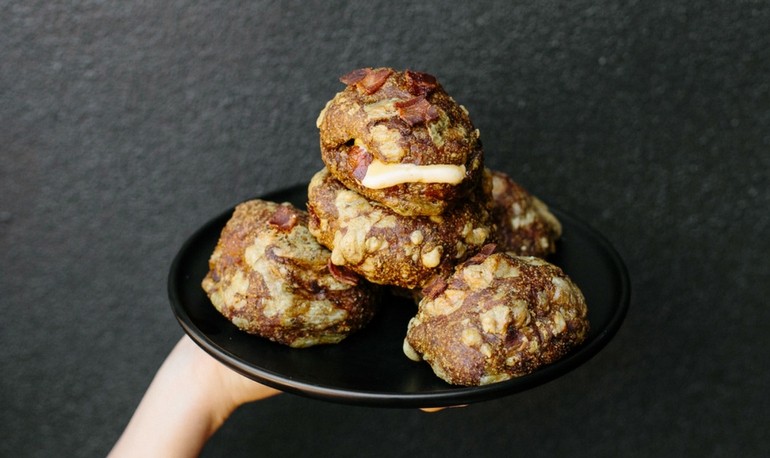 Seriously good buttered. Serve warm or cold.
Cashew cheese
An all time favourite! I keep a jar of cashew cheese in my fridge at all times. You can create any flavour you like, though I love dill, garlic and lime cashew cheese. Serve it with veggie sticks or the seed crackers above.
Activated nuts
Activated nuts are easier to digest, and more crunchy and flavoursome. To activate nuts and seeds, soak them in water for 6-8 hours with a dash of apple cider vinegar and some salt, then dehydrate them in the oven below 100C until they are crispy and all the moisture has been removed. If you do not have time to activate them, then of course raw nuts and seeds will do. Serve among platters, or in little bowls scattered around your venue.
Pickled cucumbers
Of course, homemade is always best, though there are also some great brands you can buy off the shelf. But choose wisely as many contain colours, flavours, sugar and preservatives. Look at the ingredients list – it should only contain cucumbers, vinegar or water, salt and herbs.
Mini Panna Cottas
Check out these recipes here and here, but instead of using larger ramekins, pour the mixture into mini cups (like shot glasses) to share among your guests. You could also add a little piece of fruit on top, like a raspberry, or a slice of strawberry or mango.
Traditionally cured and chemical free sausages
Try searching your local markets for someone that is passionate about preparing and curing meats traditionally, or find a good butcher. Traditional methods use only salt and herbs to cure the meat, whereas other cured meats contain gluten, preservatives and flavour enhancers like MSG. Slice the sausages thinly to serve.
12. Sweet potato chips
So easy to make and a real crowd pleaser. Here is a great recipe for sweet potato chips, which is so full of flavour that you don't need a dipping sauce.
Avoid spending the festive season feeling guilty and unwell – stick to nutritious, real foods and maintain your energy, confidence and happiness during this special time of year.
Are you catering for any friends and family this festive season? What do you plan to make? Which of these recipes will you try?!
Sheridan Austin
Nutritionist & GAPS Practitioner