The first time many people eat or make their own gluten free breads, buns or wrap, they are disappointed with the result, because the quinoa, rice or coconut flour bread doesn't taste like their preferred wheat based breads do. The textures and tastes of gluten-free bread, bun and wrap options will be different, so it just means it takes some getting used to. Be patient and be willing to experiment a little to find the ones that you and your family love.
One of the more frequent requests we get from our readers is for gluten free bread, bun and wrap recipes. So we've been collecting and creating some new gluten free friendly recipes just for you. Many of the following bread, bun and wrap recipes are great for a quick and convenient lunch and they make the transition into a gluten free lifestyle much easier.
Bread Recipes
The following bread recipes are so simple and easy to make. These breads make a great replacement for those store-bought GF breads that can be filled with chemicals, additives and preservatives  that are only there to pro-long the shelf-life and stop it going mouldy and stale. However, these ingredients can negatively impact your health. The bread recipes below are high in fibre, protein and healthy fats so they won't spike your blood sugar levels as quickly as refined store-bought versions do. So you will feel satisfied longer by eating these homemade breads. They make a beautiful sandwich (best when fresh/ toasted), simply add on your favourite toppings, make french toast, a BLT, or a toasted sandwich.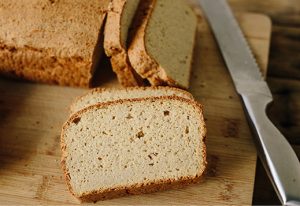 Bread Buns
These buns are a fantastic quick option for lunches especially your kid's school lunchbox. The perfect addition to your pantry
5 Minute Fluffy Flourless Paleo Hamburger Bun
These buns are extra fluffy and so easy to make in just 5 minutes! These will be perfect for BBQ lunches or dinners, simply serve them with homemade burgers, bacon, salad, avocado and mayo for a delicious and healthy hamburger.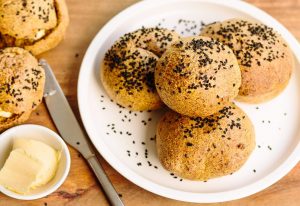 Wraps
We love these gluten free wraps because of their versatility. You can use them to wrap around your favourite sandwich ingredients, layer them into a casserole type dish to act as a 'gluten & grain-free' lasagna, or get really creative with your toppings. You can do a breakfast style wrap with bacon, eggs, avocado or spinach. If you're looking for a sweet variety, you can top them with fruit, cinnamon and yogurt for something a little different. The possibilities are endless.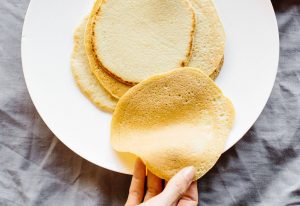 What are your favourite gluten-free bread, bun and wrap recipes? Please share them with us in the comment section below.
Happy changing habits
Jordan Pie
Nutritionist & GAPS Practitioner